RAIDER Training is now being offered to armed teachers.
In todays world, many states are starting to authorize school districts to allow their teachers to be armed.  We believe those teachers need to be able to get the quality training to do the job they are signing up for.  We will now offer a RAIDER class specifically designed for the armed educator.  For more information, please contact us at [email protected].
Law Enforcement Officers Face
Unique Challenges
The RAIDER Training program exposes first-on-scene responders to the tactical skills necessary to operate successfully in the unique tensions of an active shooter setting – a hostile environment, populated by large numbers of civilians, with an Active Killer attempting to achieve the highest body count possible in the shortest amount of time. This is not a normal event, nor is the response.
Our courses are organized in Three Levels. Each Level is designed to be run either as a standalone course or run consecutively to achieve the 5 day Instructor Level Course.
---
There will always be a first officer on the scene. If he or she waits for more officers – as is the protocol in many units – who we are we portraying needs help more?  The officer or the victims under attack? Solo engagement training is designed to provide officers with the necessary mental and physical skills to draw the attention of the active shooter away from the potential victims, confuse and frustrate the shooter, and successfully neutralize the situation.
RAIDER Training Level 3 (Instructor) $995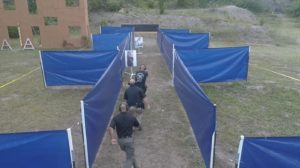 Refine Level's 1 & 2 Course Skills
Begin Instructing basic drills on Day 2
Be Evaluated on Understanding, Demonstration, and Instructional abilities throughout week
Be monitored, mentored and tested by Trainers throughout the week
Design, Brief, Instruct, and Debrief their own Live Fire and Force on Force Scenario

To register for a class, click on the class under Class Schedule.